Am I Next? is the question we often ask ourselves in the deepest recesses of our mind. Our website is dedicated to helping you to help future-proof your life and career. Not an easy task when life-changing things can happen in the blink of an eye.
ABOUT
stephen richard levine
Forty-plus years of management consulting, dealing with hiring, managing and firing employees along, with twelve-plus years as the Chief Technologist of a financial services company in the beleaguered mortgage industry has provided me with significant personal experience relating to the disruptions caused by technological change, legislative imperatives and the dissolution of an entire industry. In short, I have experienced, up close and personal, the anxiety and stress that occurs when there are disruptions in the workforce.
I have been on both sides of the employment equation, from designing and implementing the technological changes that resulted in the loss of jobs to the hiring of new personnel to assist corporations wishing to grow into additional profitable areas.
With many years in the government-regulated financial services arena, I am well aware of the impacts of government change and the perpetual legal and financial battles that often results in certain industries and individuals being consigned to the ash heap of history.
It is my intention to give back to those upcoming generations who appear ill-informed about the realities of life and those who want to short-circuit their learning curve in order to advance to the next stage of their life.
While you may have been thrown a curve ball, it is the superior player who handles the situation as it arises, knowing that there will be future opportunities to hit a home run.
I wish all of those reading this website the very best of luck. Should you wish to comment on the subject matter, relate your experiences, make suggestions or simply ask questions, I can be reached by e-mail at steve@aminext.com.
And, I am not so busy that I can't answer a few questions or hopefully provide an answer to others.
Stephen Richard Levine
steve@aminext.com
ORIGINAL AM I NEXT WEBSITE CIRCA 2002 ...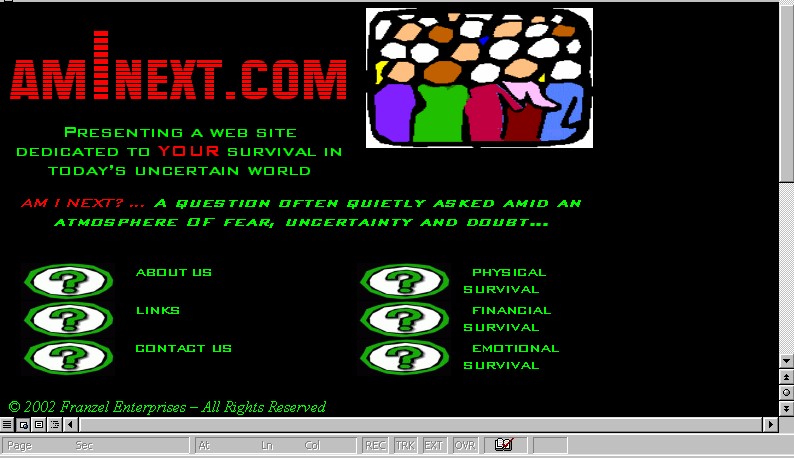 AND OUR ORIGINAL EMPHASIS ON JOB PROTECTION ...